Publié le 05/03/2009 à 12:00 par elogiboyau
Kfc try to meet consumer's need by developing a variety of menus
Even if we note that the kfc menu is not the same in every country in the world, it is known mainly for its fried chicken, its chicken pieces prepared in the exact same way than it was back.
In some countries KFC menus also offer product from other franchise such as pizza hut.

What about KFC in France?
There are 50 KFC restaurants in France and it is one of the third fast food restaurants on this market.
According to M.boerhinger the franchise chief executive the two advantages of kfc are:
the product: KFC is the only one that propose fried chicken and not only burger,and
the experience of kfc in franchise.
[/Arial]


Publié le 03/03/2009 à 12:00 par elogiboyau

Kfc focus on consumer satisfaction, because we know than nowadays if you want to survive on a market you have to make your consumer to be loyal to come back time and time and again.
It is not easy to meet exactly consumer need. Kfc try to do this and to offer good products to them. They want to expand internationally, offer consumers more choices at their restaurants, and provide good services to their customers.
Kfc brand image is also good because off the efforts made by the company in terms of social responsibility Indeed, they also say that their meat comes about ethically and through humane treatment. This has not always proved true in the past. KFC has made statements which say: "We do not tolerate animal abuse by any of our suppliers, under any circumstance." KFC also told the company Pilgrim's Pride that, "unless they can definitively assure us there are absolutely no abuses taking place, we will not purchase from this Moorefield, West Virginia, facility. to the patrons of KFC, though, that the chickens will not be treated badly in the progression from birth to the processing plant.
Publié le 01/03/2009 à 12:00 par elogiboyau

The KFC logo has changed about five time since the company was founded by Colonel Harland Sanders in 1952.
In the early years, you can see him to have a more serious face but over time, you can see that his face has become friendlier.
At the beginning we can think that his ambition was modest but with time he become more and more powerful and self confident.
In 1952 and in 1978, the color used is black and white, a little bit drab or washed out. We can think that there had not many competitors and that the competition on the fast food market had just begun .Indeed MacDonald's were created in 1940 -1948.
Then, with the competition growth, the company had to improve her image and to seem more aggressive, so we can see the red logo but with the colonel in the background.
With the two last logos the colonel is put in a prominent position.
About the last one Dedrick, president of KFC's U.S. division said that This change gives us a chance not only to make sure we stay relevant but also communicates to customers the realness of Colonel Sanders and the fact that he was a chef," said Gregg.
According to me the image company is clearer with the Colonel Harland Sanders shedding his white suit jacket.
To have a great figure to indentify stimulate consumers choices, MacDonald's with Donald gives us an example, but the advantages of KFC is that the colonel is not just an imaginary person.

Publié le 28/01/2009 à 12:00 par elogiboyau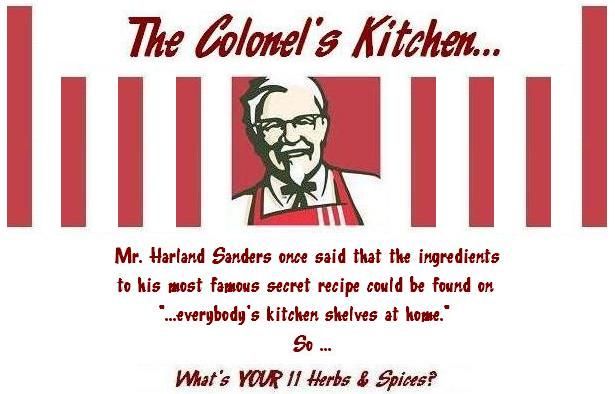 the famous logo
Publié le 28/01/2009 à 12:00 par elogiboyau
KFC, known as Kentucky Fried Chicken, is a chain of fast food restaurants based in Louisville, Kentucky.

In the midst of the depression, Harland Sanders who was born just outside Henryville( Indiana), opens his first restaurant in the small front room of a gas station in Corbin, Kentucky.
Sanders serves as station operator, chief cook and cashier and names the dining area "Sanders Court & Café."

In 1936, Kentucky Governor Ruby Laffoon makes Harland Sanders an honorary Kentucky Colonel in recognition of his contributions to the state's cuisine.
The Sanders Court & Café adds a motel and expands the restaurant to 142 seats.

In 1952,the Colonel began actively franchising his chicken business by traveling from town to town and cooking batches of chicken for restaurant owners and employees and awarded Pete Harman of Salt Lake City with the first KFC franchise.

In 1957 Kentucky Fried Chicken first sold in buckets.